Produktbeschreibung
Modell Nr .: HY-003 Alkyl Nr .: Fettsäure Quelle: Oleic Oil Acid Wert: 190mg. KOH / G (Min.) Verseifungswert: 190mg. KOH / G (Min) Polymer (%): 8-17 Zahlungsbedingung: L / CT / T Warenzeichen: Hongtai Herkunft: Anqing, Anhui, China Carboxyl Nr .: Dicarbonsäure Aussehen: Flüssig Farbe: Hellgelb Viskosität (Cp / 25 ): 5500-7500 Monomer (%): <= 6 Flammpunkt: 260 (Min) Dimer (%): 78-85 Transportpaket: ISO-Tank, Flexi-Tank HS-Code: 3824909990
Product name

dimer acid HY-003

Acid value (mgKOH/g)

190-200

Saponification value (mgKOH/g)

190-200

Viscosity (mPa·s/25ºC)

7500-8500

Flash point (ºC)

260±2

Color (Fe-co)

≤8

Composition (%)

monomer

1-3

dimer

80-85

trimer

8-17
THE ADVANTAGES OF OUR FACTORY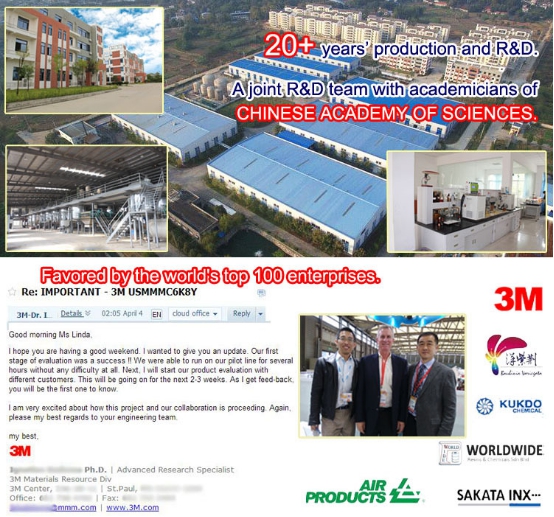 ADVANTAGES OF DIMER ACID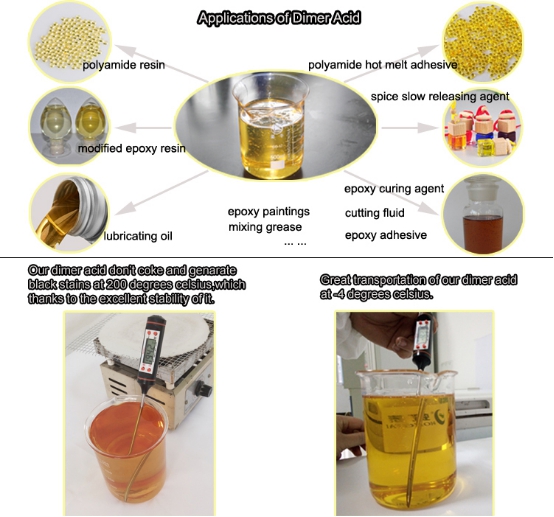 Anqing Hongyu Chemical Co., Ltd. was founded in 1998. Since establishment, we mainly engaged in research and development of dimer acid, also polyamide resin, polyamide hot melt adhesive. We have international advanced molecular distillation equipments, a production capacity of 5,000 MT per month, a workshop of 64,000 square maters.  With continuous innovation, we are becoming a global enterprise gradually.
Steady

--

 Steady products and clients group thanks to 20

+

 years' production experience,  advanced equipments and mature test methods.

Safe

--

 Standardized production process, fully-automatic and scientific operation guarantee production safety.

Environment-friendly

--

 The first enterprise achieved cleaner production built sustainable green chemicals.

Customizable

--

 Recommending proper products to customers based on the lastest market dynamics.

High-efficiency

--

 Energy saving and consumption reducing, sincerely reward customers by high yield rate.

Considerate

--

 Respond customers timely, sound after-sales service system.

Striving for perfection--

 A 20

+

 years' striving for perfection team makes us at top rank.
FAQ
Q: What is your test instrument for viscosity? 
A: NDJ-79 made in China. The viscosity tested by NDJ-79 is smaller than tested by BROOKFIELD made in America under the same conditions.
Q: Why some other band's dimer acid transparency is bad?
A: 1. the content of monomer is overhigh;
     2. the content of phosphate ions are overhigh;
     3. the content of Fe
3+
 are overhigh.
Q: Why the polyamide resin made of dimer acid have black stains? 
A: Because the phosphate substance coked during the production.
Q: What is your best color? 
A: The best color is 3# (Fe-Co) now. And we have succeed in research of the transparent dimer acid.
Q: Can you produce according to BASF standard? 
A: Yes.
For more detail information, please 
contact with 
us freely.
Produktgruppe : Carbonsäure und Derivat