Produktbeschreibung
Modell Nr .: HY-003 Spezifikation: 190kg / Trommel HS Code: 3824909990 Stabilität: Stabilisierter Säure Herkunft: Anhui DIMER ACID HY-003
Acid value(mgKOH/g)

190-200

Saponification value(mgKOH/g )

190-200

Viscosity (

mPa

·

s/25ºC

)

5500-7500

Flash point (

ºC

)

>260

Color (Fe-co)

≤8

Composition (%)

monomer

≤6

dimer

75-85

trimer

8-17
DIE VORTEILE UNSERER FABRIK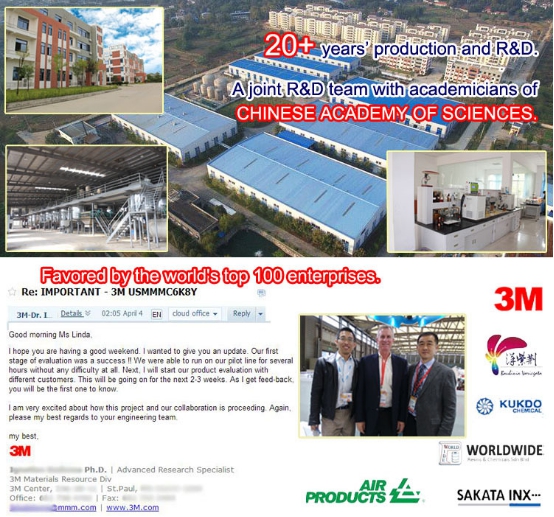 ANWENDUNG & VORTEILE VON DIMER SÄURE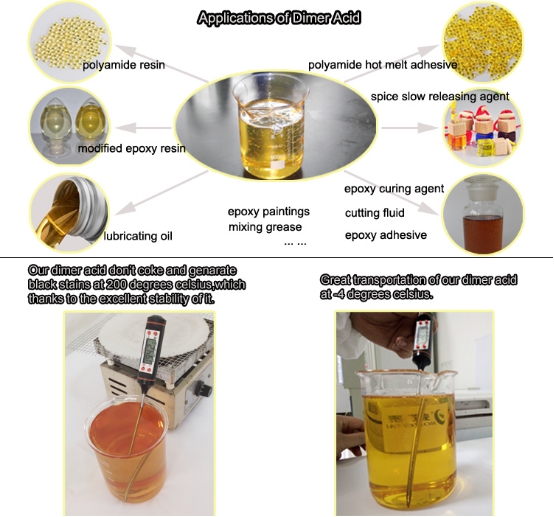 There is 

no black stains appeared

 

during the test. We adopt the unique production process  to control non impurities, and even under very high temperature, our dimer acid still maintain the excellent stability.




If there are impurities in dimer, the down-stream products such as polyamide resin may appear black stains.

This test is mainly to check the transparency of dimer acid in the low temperature. 

Thanks to NON phosphate ion and low percentage of monomer, it is easy to find out that the transparency of our dimer acid is very good under low temperature.




If there are phosphate ion and high percentage of monomer, the down-stream products such as polyamide resin may become sticky and harden, and the viscosity may be very low.
VERPACKUNG & PRODUKTQUALITÄT, PRODUKTIONSMANAGEMENT ZERTIFIZIERUNGSSYSTEM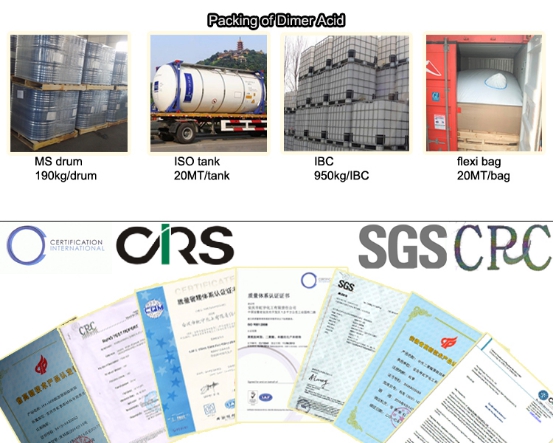 Steady--

Steady products and clients group thanks to 20

+

 years' production experience

,




advanced equipments and mature test methods.

Safe--

Standardized production process, fully automatic and scientific operation




 guarantee production safety.

Environment-friendly--

The first enterprise achieved cleaner production built sustainable green




 chemicals.

Customizable--

 Recommending proper products to customers based on the lastest market




 dynamics.

High-efficiency--

Energy saving and consumption reducing, sincerely reward customers by




 high yield rate.

Considerate--

Respond customers timely, sound after-sales service system.

Striving for perfection--

A 20

+

 years' striving for perfection team makes us at top rank.
FAQ
Q: 
What is your test instrument for viscosity? 
A: NDJ-79 made in China. The viscosity tested by NDJ-79 is smaller than tested by 
BROOKFIELD made in America under the same conditions.
Q: 
How long does the polyamide resins totally dissolve in the solvent?
A: Usually, it takes about 30 mins in 50% polyamide resin and 50% anhydrous alcohol solvent under magnetic 
stirring at 40ºC. It depends on the temperature and percentage of polyamide resin.
Q: 
Which one dried more quickly among co-solvent and alcohol-soluble polyamide resin?
A: Co-solvent polyamide resin.
Q: 
What is the formula weight?
A: About 10,000.
Q:
 Can you produce according to Air or Sunmide standard? 
A: Yes. 
Produktgruppe : Dimersäure